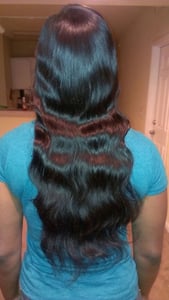 $

175.00 - On Sale
Lush locks that you can wear as is in curls or sleekly straighten.
An investment because wash these tresses,add a bit of Moroccan argan oil, and they are like new. This hair will last for several months/weave installations with good maintenance.
Thick bundles. 12" - 18" you can complete your style with just 2-1/2 bundles depending on your fullness preference. Longer hair customers 20" -28" may want to order additional bundles.